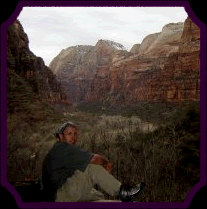 Zion National Park
At the University of Tennessee and the University of Colorado I studied to be an Aerospace Engineer, because of my interest in space exploration. Fluid Dynamics (especially propulsion) and Astrodynamics (Orbital Mechanics) were my two main focus areas. Some of the programming I did during graduate school is shown on this website. Also some images from my work with astrodynamics is shown. When I can't work as an aerospace engineer, I work as a web designer and programmer. You can see the work I do on my Web Programmer Page.
My love of traveling and the outdoors has led me into photography. This website is designed to showcase my aerospace work, programming and photography. I post many of my pictures on my Mountain Adventures Blog and Panoramio. All my old film pictures have been rescanned or scanned for the first time. Most were scanned straight from the negatives. I plan to have a new photo gallery of some kind on here. Check out the Photography Page.
Favorite Quotes
I wake up every morning torn between two wishes: Make the world better and enjoy the world.
I have fought a good fight, I have finished my course, I have kept the faith. - 2 Timothy 4:7
People can be divided into three classes: The few who make things happen; The many who watch things happen; and the overwhelming majority who have no idea what has happened.
The man who follows the crowd will usually get no further than the crowd. The man who walks alone is likely to find himself in places no one has ever been. - Alan Ashley-Pitt
The cure for boredom is curiosity. There is no cure for curiosity.
Updated: 7/13/2012